When is it time to turn to a professional genealogist? Many people enjoy the exciting challenge of discovering each generation and each new name to be added to the pedigree chart or family group sheet. It is very gratifying, but can sometimes become frustrating. When we reach that proverbial 'brick wall' on a branch of our family tree, it's time to turn it over to a professional genealogist. Contact us today to for a phone consultation with one of our professional genealogists.
At Heritage Consulting Genealogy Research Services, we have a varied staff of research experts with specialization in many geographical locations. With over 35 years in the business, and the reputation to show for it, we can breach those brick walls and extend your ancestral lines.
Our hourly rates are competitive with other genealogy research companies. When you call us, your call will ring through to owners Stan or Raquel Lindaas, both professional genealogists. You will have the opportunity to discuss your research objectives directly with the company owners, and hear their assessment of the strategies to be employed.
Call us to learn more about our professional genealogy consultations today!
Sample Reports
Here are some examples of what a finished genealogy research report looks like. Keep in mind that in addition to the professionally written report, you will receive the relevant pedigree chart and family group sheets, and photocopies of all the documents accumulated during the research session. These are all bound together in a keepsake cover for future generations to treasure. The following reports represent the efforts of a typical ten hour project.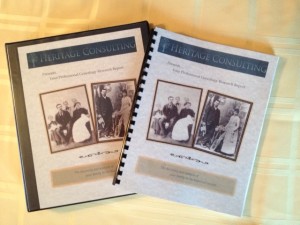 Contact Heritage Consulting in Salt Lake City, UT for a Genealogist for hire at 877-537-2000 today!