Heritage Consulting Professional Genealogical Research Services assists probate attorneys with estate research to find missing heirs. Our professional genealogists research and document to substantiate heirs at law and provide attorneys with necessary records to complete the probate process. Contact us today to learn more about our probate research services.
We can help you with the following projects:
When an estate or trust distribution is held up because some of the beneficiaries cannot be found.
When proof of relationship to an heir is needed.
When due diligence is requested by the courts.
Or, anytime you need help identifying biological family members who are still living from historical records.
Heritage Consulting uses the records of the Family History Library in Salt Lake City, Utah, the largest genealogical repository in the world holdings include millions of printed, digitized and microfilmed original parish, land, probate, and vital records, censuses, city directories, compiled family histories, and much more.
What makes us different?
We are not connected to a specific probate attorney.
We provide a simple hourly rate rather than taking a percentage from you.
We have been in the field since 1978.
We have experienced inheritance research agents around the United States and the world with access to records not available at the Family History Library.
Additionally, we have full access to the ever-growing variety of subscription internet collections.
Sample Reports
Here are some examples of what a finished genealogy research report looks like. Keep in mind that in addition to the professionally written report, you will receive the relevant pedigree chart and family group sheets, and photocopies of all the documents accumulated during the research session. These are all bound together in a keepsake cover for future generations to treasure. The following reports represent the efforts of a typical ten hour project.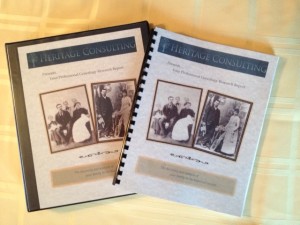 Contact Heritage Consulting in Salt Lake City, UT for probate research at 877-537-2000 today!