Genealogy research has been transformed by the Internet in the last few years. While it is a fantastic tool, professional genealogists recognize that compiled sources on the Internet are riddled with errors. The careful professional genealogist uses such sources of information skeptically for the clues they provide, until verified from original sources. Contact us today to learn more about the genealogy research done by our professional genealogists.
At Heritage Consulting Genealogical Research Services, we focus on original source documentation to trace ancestry, determine ethnic heritage, document qualification for an honorary lineage society, to trace living heirs to estates, and in all facets of genealogical research. It is not unusual for one of our astute genealogy researchers to detect errors in a client's pedigree, whether small or glaring. We strive for accuracy, and will fully explain our conclusions in the client report. Copies of the supporting documents are included with the report to substantiate our conclusions.
Family History
Family History goes beyond merely filling out the names, dates and places on the pedigree chart. Your ancestors were real people with occupations, accomplishments, servants in the community, and perhaps an occasional 'character'. An expert genealogist can pull from the records the less obvious details of their lives that 'put flesh on the bones' of your progenitors. We have access to subscription websites for historical newspapers and obituaries, as well as printed county histories, court records, and more. Learn more about the human side of your ancestors through our genealogy services.
Sample Reports
Here are some examples of what a finished genealogy research report looks like. Keep in mind that in addition to the professionally written report, you will receive the relevant pedigree chart and family group sheets, and photocopies of all the documents accumulated during the research session. These are all bound together in a keepsake cover for future generations to treasure. The following reports represent the efforts of a typical ten hour project.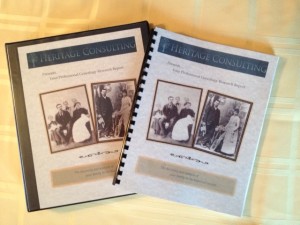 Contact Heritage Consulting in Salt Lake City, UT for Genealogy research at 877-537-2000 today!